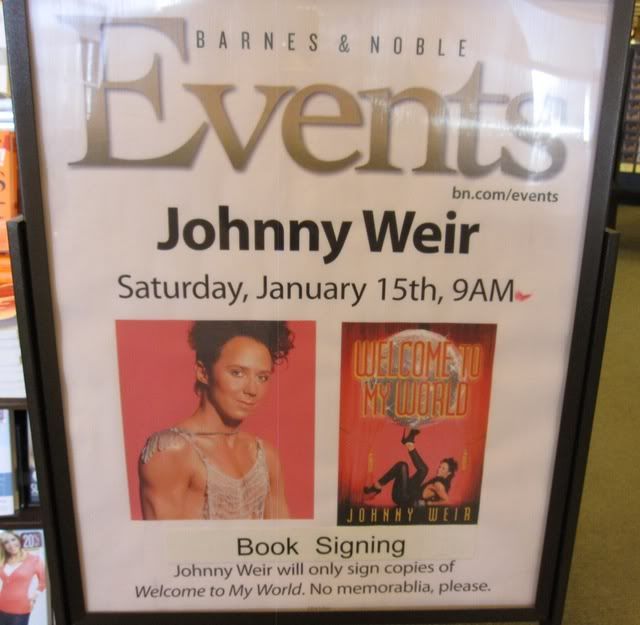 I pick up
yodante
and
morphine1x2x1
at 7:00am in Cambridge, and we drive to Framingham, Massachusetts for Johnny's book signing of his autobiography, Welcome to My World. It is bitterly cold out so the kind employees at Barnes and Noble invite everyone to wait inside the store even though it does not open for over an hour. There are only about 20 people in line so I guess we did not need to go so early, but we have fun talking skating and _skating.
This the display of Johnny's book right next to George W. Bush's biography, lol.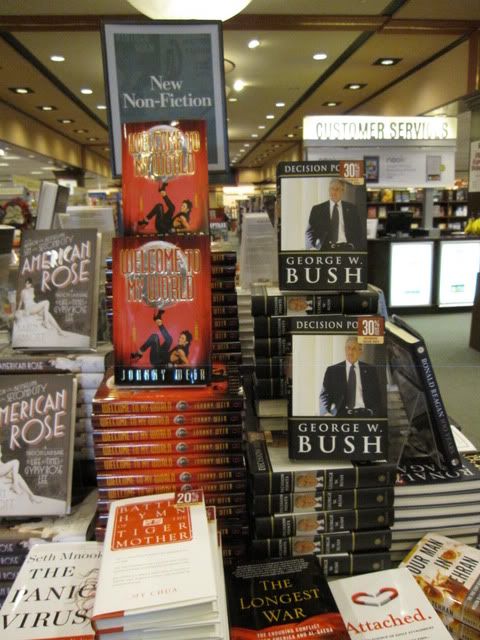 and this is me with my copy of the book:
Finally Johnny's bus pulls up and his crew sets up his autograph table, stool, and the Be Good Johnny Weir film crew (Butch and Gramz) get their cameras ready. Everyone in line is asked if they mind being filmed. Johnny walks in and gives a quick speech on a megaphone welcoming and thanking everybody. He introduces Tara and his "beauty bear" Eric who are with him.
Tara and Eric: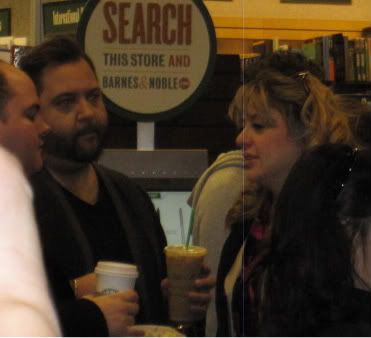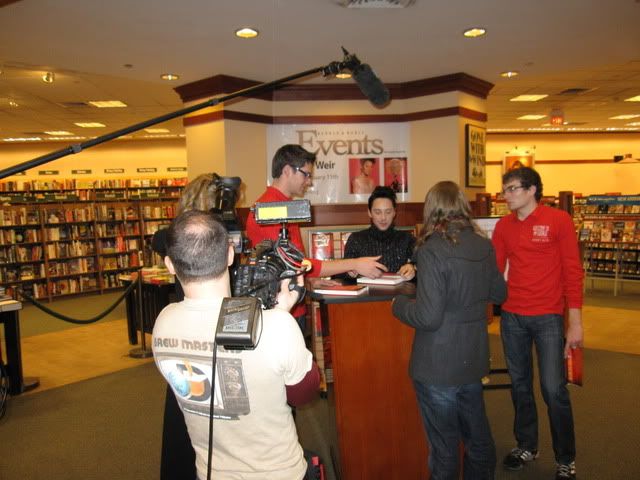 The line moves quickly and
yodante
takes a few pictures of Johnny signing the 4 books I had.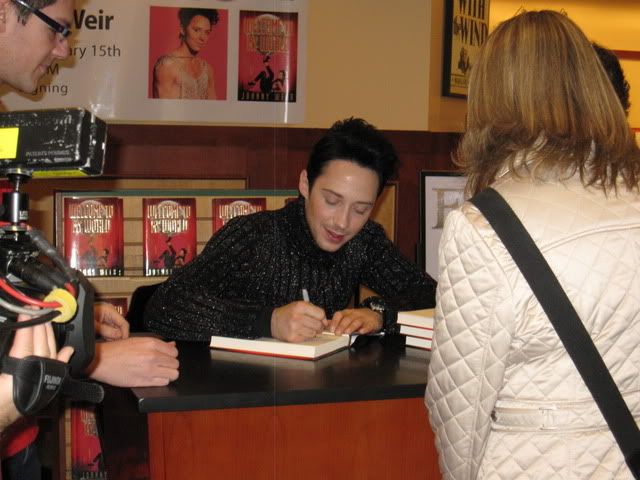 Johnny starts autographing books, but Tara cut in to show him Welcome to My World as a Nook Book (or whatever, an electronic book thing). It is very cute, with the cameras filming- Johnny seems to have no idea how it works and Tara wants to link the Nook to Johnny's website. Johnny says it's "terrifying" that the Nook can hook up to the internet (IDEK).
Johnny personalized everybody's book even though they had said he wouldn't. I tell him the first is for Marina Nastevych from Kiev, who has interviewed him in the past. Johnny looked up and said "Yes, I know her." The next book is for "Alek in the Phillipines", and the 3rd book is for "Claudia in Switzerland". At this point Johnny says "How do you know all of these fabulous people?" and I say we met on the internet and they all love him, so I offered to mail signed books to them.
I told him I already read the book and really liked it. We thank each other, and Johnny is so tiny and sweet and flawless.
morphine1x2x1
calls Tara over and thanks her for being so nice when they met in LA for All That Skate. Tara was very friendly and answered a few of our questions.
Morphine: Have you read Johnny's book?
Tara: I've read many versions of the book, but I haven't read the final copy cover to cover.
Me: Do you think Johnny may write another book? He must have so many stories.
Tara: (Nods) Yes, he could write an entire book about this year alone.
Me: Is there any chance All That Skate will come to the US again this year?
Tara: (Shakes her head) I don't know.
Yodante (I think) asks her something and Tara says that she and Johnny are working to put together an ice skating show for here (MASSACHUSETTS!) for this May. That would be FABULOUS. Then Tara says she has to use the ladies room and thanks us again for coming.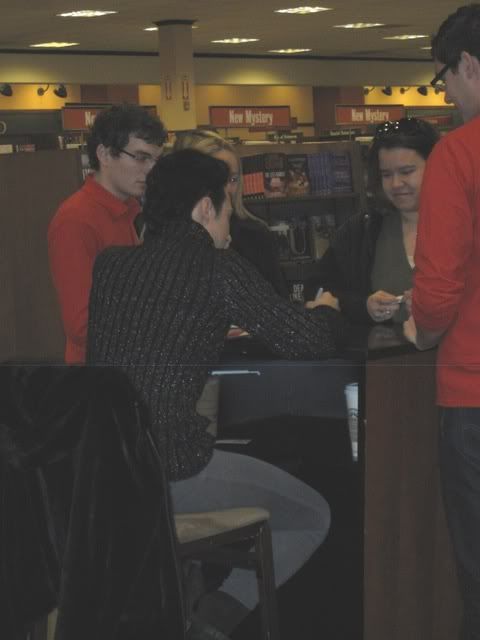 After all of his books are signed Johnny waves goodbye and gets on his fabulous bus. The WTMW bus is so glamourous that I laugh for 5 minutes then take a bunch of pictures.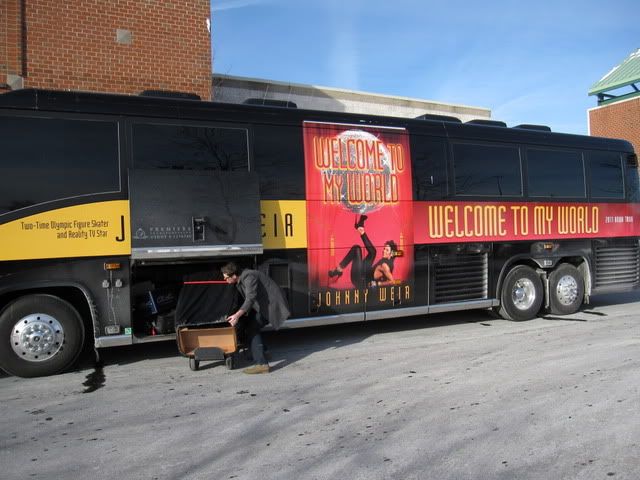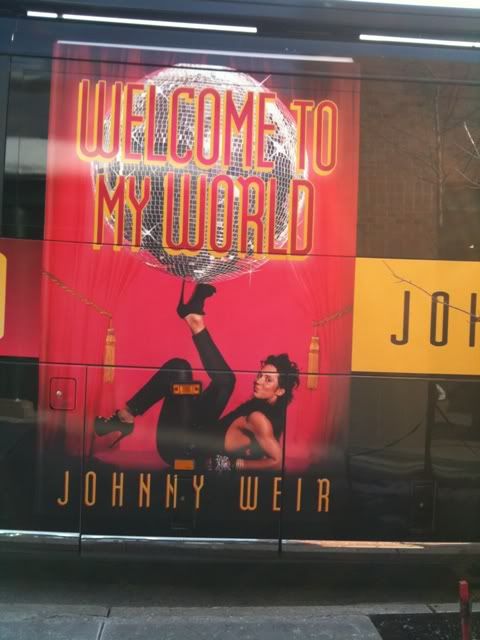 THANK YOU FOR YOUR TIME ♥ ♥ ♥